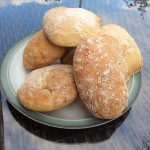 Ciabatta Rolls
This is an easy recipe for great tasting Ciabatta Rolls. You will need to use a mixer or bread machine to make it as it is a very wet dough and you would get very sticky if you try and do it by hand.
Instructions
1. Lightly oil a rectangular casserole dish. The one I have used was roughly 30cm by 20 cm.
2. In the mixer, with a bread hook,  or bread machine, add the flour. Then in separate piles add the yeast, salt and oil. The salt will kill the yeast if it touches it directly. Add 3/4 of the water and mix on a  low speed, slowly add in the remaining water. You will get a very wet sticky dough. Mix for approx 8 minutes on a medium speed until you get a smooth and stretchy dough. If using a bread machine wait until it has finished the mixing stage before removing it.
3. Put the dough in the  casserole dish and cover with cling film. Leave it to rise until it has at least doubled in size 1 to 2 hours.
4. Dust your work surface with flour and semolina. Tip your dough out on the floured surface.
5. Preheat your oven to 220 degrees C. Line a baking sheet with a silicon sheet.
6. Dust the top of the dough with flour and semolina. Dust your hands with flour as well. Cut the dough into 6 equal pieces. Lift gently and shape gently in roll shapes place on the baking sheet. Don't worry if they are a bit rough and ready they will still taste great. Repeat with the remaining rolls. Leave to rest for 15 minutes.
7. Cook for 20 to 25 minutes until the rolls are golden brown and sound hollow when they are tapped underneath. Leave to cool on a wire rack.
Allergens
Allergens
Ciabatta rolls are an easy bread to make as long as you have a mixer with a dough hook or  bread machine. Unlike a normal bread recipe you do not need to knock the air out of it before cooking. This recipe is based on one from Paul Hollywood, the master baker. It makes a great alternative to the usual burger rolls. Check out my recipe for chorizo burgers for a great serving suggestion.
Add to Favourites