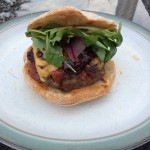 Chorizo burgers
Tasty and easy Chorizo burger than can be made with Beef, Turkey or Chicken Mince.
Instructions
1. Fill the sink with soapy water to make it easier to wash your hands.
2. Chop the Chorizo sausage into small cubes.
3. In a dish combine the chorizo, mince and seasoning. Mix together with your hands firmly. If you are using Turkey or Chicken mince you may need to add an egg yolk to help the mince stick together. If at this point it gets too sticky you may need to add some breadcrumbs so that becomes more manageable.
4. Divide the mixture into 4 and make into burger shapes. I use a serving ring to help with this, filling it and then pressing it firmly down. If the burger is too thick flatten it a bit more until it is about 1.5cm thick. Alternatively you could do this by hand, or in a burger press.  Cover and preferably leave the burgers for 30 minutes before cooking to help the flavours develop. Wash your hands.
5. The burgers can be either cooked on the BBQ or in a frying pan. If making Beef burgers you will not need to add any oil to the pan. For chicken or Turkey burgers you will need a small amount of oil. Cook on a medium heat,  roughly 5 minutes for each side. If you get a large collection of oil in the pan use a spoon to remove it. Flip the burger over and cook the other side. When the second side is almost done add the cheese slices and cover with a lid. The steam trapped by the lid helps melt the cheese.
6. Serve with fresh rolls, sauce and salad.
This recipe makes easy and great tasting chorizo burgers. I have combined it with beef mince but you could use chicken or turkey mince for a healthier version. With leaner mince you may need to add an egg yolk to help it bind together. Once you have made your own burgers you will never go back to the supermarket ones. I use a serving ring to help get a burger shape, this works well without having to splash out on a burger press. You can of course shape your own by hand just make sure you press them together really well. I served mine topped with melted cheddar cheese and with  Homemade Jack Daniels BBQ Sauce sauce and ciabatta rolls.
Add to Favourites