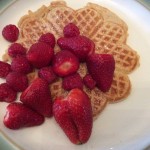 Apple and Cinnamon Waffles
Tasty apple and cinnamon waffles with healthy oats.
Instructions
1.  Put the oats in a food processor and blend. Then add to a large mixing bowl and add the flour, baking powder, salt, sugar and vanilla.
2.  Peel and dice the apple put in a bowl and add the cinnamon. Cover with cling film and microwave for 2 minutes. Drain off the liquid from the cooked apples and then blend till smooth, add to mixing bowl.
3. Measure out the milk in a jug. Separate the eggs putting yolks in with the milk and the whites in a very clean new bowl. Mix the egg yolks and milk together and then gradually mix into the bowl with the other dry ingredients. With a clean whisk, whisk the egg whites till they are nice and fluffy the gradually fold into the other mixture.
4. Put the waffle iron on to heat up. Once it is ready spray with oil spray to stop the mixture sticking. For the waffle iron I had I needed to use 3/4 of a cup of mixture.  Spread it roughly round the iron and then close it. Start checking that it has cooked after the steam coming out from the edges of the iron stops, you are after a golden brown colour.
5. Repeat step 4 until all the mixture is used.
6. Serve with a sprinkling of icing sugar and fresh fruit
This recipe creates great Apple and Cinnamon waffles. I've had a waffle iron for years but didn't like the taste of the recommended recipe that came with it as it tasted to much of egg. This version however doesn't have that problem. To make them a little bit healthier the batter uses porridge oats and an apple instead of some of the flour and sugar. Serve with fruit and icing sugar for a tasty brunch. You need a waffle iron to cook them. It makes for 6 small waffles if you need more simply double up on the ingredients. You can make them without whisking the egg whites separately the finished results would be as light, but it is quicker with less washing up.
Add to Favourites