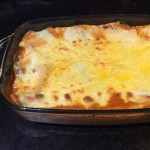 Spinach and Ricotta Lasagna
Tasty vegetarian lasagna.
Instructions
1. Wash for leeks and then slice thinly. In a frying pan add a spoonful of oil and fry the leeks on a medium heat until soft ,stirring frequently, 5 to 10 minutes.
2. Meanwhile if using fresh spinach throughly wash it, removing the stalks as you do this,  and leave it to drain
3. Add the tomato sauce, ricotta, spinach, balsamic vinegar and season with pepper. Put the lid on the pan and stir spinach into the sauce simmer for 10 to 15 minutes until spinach is wilted.
4. Whilst the sauce is cooking check the instructions on the lasagna packet and preheat the oven to that temperature. Put the walnuts in the casserole dish and cook in the oven for 10 minutes. The leave to cool before chopping and adding to the tomato sauce mixture.
5. In a separate pan make the cheese sauce. On a medium heat melt the butter then add the flour and stir for 2 minutes. Gradually add in the milk stirring all the time to prevent lumps. Add the bayleaf and sprinkling of grated nutmeg. Cook for a few minutes until the sauce thickens stirring regularly. Add 100g of grated cheese stir until combined, then remove from the heat.
6. Assemble the lasagna.  Start with a layer of the tomato sauce mixture, top with half the lasagna sheets, repeat and then top with the cheese sauce before grating extra cheese on top.
7. Cook for time suggested on the lasagna packet, for me this was 30 minutes.
Allergens
Allergens
This is tasty vegetarian Spinach and Ricotta Lasagna with leeks and walnuts to add additional flavour. I have developed it by trying to pick the best bits out of a number of different recipes. I make homemade cheese sauce but cheat and use a ready made tomato sauce. Lasagna is my son Jamie's favourite dish unfortunately he likes the meat one. This recipe did manage to win over the other meat lover in the house and it got a 4 out of 5. I hope you enjoy it too.
Add to Favourites