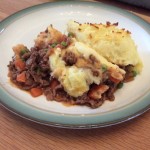 Cottage Pie
British Classic of Cottage Pie.
Instructions
1. Peel the potatoes and chop into large pieces, normally half or if you have very large potatoes quarters. Place in a pan and cover with the minimum amount of water to ensure they are all submerged add a little salt to the water. Bring to the boil and simmer for 20 minutes or until potatoes are soft when tested with a fork.
2. Meanwhile, in a frying pan on a medium heat warm about 1 tablespoon of oil. Chop the onions and peeled carrots and add to pan. Cook for 10 minutes with the lid on stirring frequently to prevent the onions from burning.
3. The add the mince beef and cook until brown, stirring occasionally. Drain excess fat from pan.
4. Add tomato puree and cook for 2 minutes.
5. Then add stock pot, 400ml of boiling water, worcestershire sauce and season with pepper. Taste and add salt, it might not need any.
6. Add cup of frozen peas and simmer for 5 to 10 minutes until the gravy thickens.
7. Preheat the oven to 200 degrees Celsius.
8. Once the potatoes have finished cooking, drain the water and return to the same cooking pan. Mash the potatoes, I use a potato ricer as it makes it easier to stop their being any lumps. If you haven't got a masher you can use a fork instead. Once the potatoes are mashed add the milk and butter and stir them in.
9. When the meat and potatoes are ready spoon the meat mixture into a casserole dish and then top with the mash potato. Use a fork to make little spikes in the potato this helps to get a crispy top. Cook in the over for 20 to 25 minutes until the mash is starting to go brown.
10. Can be served with additional gravy. Our family twist is to add some crispy hotdog onions on top.
Allergens
Allergens
This is a version of the British Classic Cottage Pie. It is my son Jamie's second favourite dish. Mince beef with Mash Potato baked in the other so you a crispy top. Every British person will have their own version of this. This one uses ingredients you can find in Germany.
Us Brits definitely love a pie. This type of pie is topped with mash potato. The other one you might have heard of is a shepherds pie. The difference is that a Cottage Pie is made with mince beef and a Shepherds Pie is made with mince lamb. Fresh mince lamb is hard to come by in Germany unless you go to the Butcher so this tends to be the version that I make. The dishes have been called by these names since the 1800's. Back then mash potato was used on the top and bottom of the pie to make it a more filling budget dish, any left meat was used.
Add to Favourites