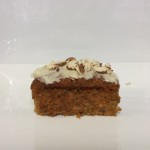 Carrot Cake
Carrot Cake recipe I have developed over time, this is the indulgent full sugar version.
Instructions
For the Cake
1. In a bowl mix together the brown sugar, eggs and oil until they are combined.
2. Preheat the oven to 170 degrees Celsius. As it is coming up to temperature put the chosen nuts in the oven on a tray and leave to cook for 10 minutes, then remove them and leave to cool.
3. Add the dry cake ingredients; flour, baking soda, baking powder, mixed spice or cinnamon, pinch of salt and the vanilla extract, stir one or two times to slightly mix.
4. Chop the nuts, put 50g into the main cake mix, the other 25g will be used for the topping the cake.
5. Peel the carrots and apple and chop in a food processor or grate if you haven't got a processor. Add to bowl.
6. Mix until you can't see any flour and the other ingredients are well combined (don't over mix as this causes tough cakes)
7. If using tins for cooking lightly oil with oil spray, or use cup cake wrappers in a muffin tin. Spoon mixture into tins or cases an ice cream scoop makes this easier to do.
8. Bake in oven for 20 to 25 minutes, test they are ready by seeing if a skewer comes out clean and that they have a cooked colour (see pictures)
9. Leave to cool for 5 minutes and then remove the cakes from the tin and leave to cool on a wire rack
For the topping
10. In a food processor blend the icing sugar to remove the lumps, then add the cream cheese, butter and vanilla and blend again till it is fully mixed. (if you haven't got a food processor you will need to sieve for the sugar to remove the lumps and then mix in other ingredients with a wooden spoon) .Spread on the cooled cakes and top with the reserved nuts.
Carrot cake is something that I really like. This is a recipe that I have developed over the years tweaking and improving it. You can pretend that you are being a little bit healthy, but as you can see from the recipe it contains a lot of oil and sugar. If you would like to try a healthier version of the cake you can check out my low GI Carrot Cake.
Use your favourite choice of nuts; almonds, walnuts or pecans all work well. This recipe can be made as small loaves as show in the pictures, cupcakes or as a large sandwich cake. I like it with a small layer of icing/frosting if you like more simply double the icing volumes. Takes 45 minutes for the cake and approx 1 hour 30 minutes for the iced version.
I did some research to try and fin out where Carrot Cake came from. This version has certainly been made popular by Starbucks. Carrot cake is thought to be based on Medieval Carrot pudding which was popular in Europe, Germany and the UK. In the UK in was really popular during the Second World War due to rationing. This is definitely a non rationing version.
It gets a big thumbs up from my colleagues at work. Hope you enjoy it.
Add to Favourites