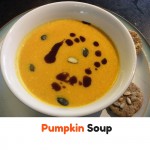 Pumpkin Soup
Tasty and easy pumpkin soup recipe.
Instructions
Prepare the pumpkin by peeling it and chopping it up into roughly 2cm cubes. Save the pumpkin seeds for use later.
Warm the oil and butter in a large cooking pot on a medium heat.
Thinly slice the onions and add to the pot. Cook for approximately 10 minutes until soft.
Meanwhile peel and dice the potatoes.
Add the pumpkin, potatoes, 1 litre of preferably boiling water and the stock pots. Gently simmer for a few minutes before seasoning with nutmeg, soy sauce and salt and pepper. Gently simmer for 20 minutes. Blend with a hand blender until smooth. Then add the creme fraiche or cream and then stir. and cook for a couple more minutes.
Remove the pumpkin flesh from the seeds. Wash and dry the seeds and then toast in a frying on a medium heat with no oil in it till they are crunchy, keep an eye on them as it is easy to burn them.
Serve with a drizzle of pumpkin oil and some of the toasted pumpkin seeds.
Allergens
Allergens
This is a simple pumpkin soup inspired by my recent team building event to Frank Petzchen's  cook school. I have changed the recipe a little bit to use up 2 whole stock pots. As you will have noticed from most of the current posts I have been baking and eating a lot of naughty stuff, this pumpkin soup recipe makes a healthy light lunch or starter. It tastes nicer with creme fraiche or cream added but if you are really being good you can leave this out. It will help you prepare for Halloween or Christmas. You could also use butternut squash instead. The soup includes, pumpkin flesh, pumpkin oil and seeds.
Add to Favourites