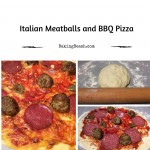 Italian Meatballs and BBQ Pizza
Great tasting BBQ flavoured pizza topped with Italian flavoured sausage meatballs.
Instructions
1. Make the dough. Follow my easy dough recipe. After the dough has been rising for 1 hour you can start preparing the other ingredients.
2. Fill the sink with soapy water to make easier to clean your hands.
3. Finely chop the caramelised onions. If you haven't got any these left over you can use 2 minced garlic cloves and 1 teaspoon of onion powder as an alternative.
5. Remove the sausage meat from their skins and mix with the seasoning, herbs and onions. Squish the mixture so that it sticks together divide and roll into approx 20 small balls.
6. Preheat the oven to its maximum temperature, mine goes up to 230 degrees C, ideally you want it as hot as you can. If you have  pizza stones put them in the oven as it is heating up.
7. Cook the sausage meatballs in a tray as the oven is heating up for 15 minutes.
8. Divide the dough into four equal pieces. I use some scales to make it a bit easier. Roll into balls.
9. Using some baking paper dust it with flour and semolina.  Roll out 1 on the balls of pizza into a circle shape. Repeat on separate sheets of baking paper.
7. Top with your chosen toppings. One of the tips to help get a crispy bottom is to put the cheese on before the tomato sauce.
8. Mix together the passata and BBQ sauce. I add about 4 tablespoons of sauce to each pizza. Don't add too much as it will go soggy. Add the meatballs, salami, onion and pepper slices and jalopenos if you are using them.
9.  Cook until the base is crispy, repeat with the remaining pizzas.
Allergens
Allergens
We really like Dominos meatball pizzas. This is a homemade probably healthier and definitely cheaper version. My Italian meatballs and BBQ pizza combines a homemade pizza dough with normal sausages given an Italian twist with herbs,  paprika and caramelised onions. Its not worth going to the whole effort of making balsamic onions just for this recipe, but its definitely worth saving some when making my caramelised onion and cheese tartlets.  You can make some extra onions and freeze them for use in this recipe or my Italian Tapas Scotch Eggs. If you  haven't been able to make the onions ahead of time you can replace them with 1 teaspoon of dried onion powder and some minced garlic if you would like.
We like a BBQ flavoured tomato sauce. This can easily be achieved by adding some BBQ sauce to some passata. You can either use some shop bought BBQ sauce or for something extra special use some homemade BBQ Sauce, Simon has drunk all the Jack Daniels so my current flavour is Captain Morgan's BBQ sauce which also tastes great.
The hardest thing to achieve in a homemade pizza is a crispy base. Put you oven on the hottest setting and try and use a preheated pizza stone. As an alternative they also sell now pizza trays with holes in the bottom to let some heat through which can also help.
Add to Favourites