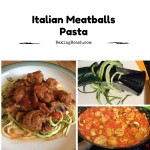 Italian Meatballs Pasta
Easy, great tasting Italian Meatball Pasta.
Instructions
1. Preheat the oven to 190 degrees Centigrade.
2. Fill the sink with soapy water to make easier to clean your hands.
3. Finely chop the caramelised onions. If you haven't got any these left over you can use 2 minced garlic cloves and 1 teaspoon of onion powder as an alternative.
4. Remove the sausage meat from their skins and mix with the seasoning, herbs and onions. Squish the mixture so that it sticks together divide and roll into approx 40 small balls.
5. Cook the sausage meatballs in a tray in the oven for 15 minutes.
6. Make the pasta sauce. Finely slice the onions and fry in a tablespoon of oil, on a medium heat, in a large pan. Meanwhile slice the mushrooms. When the onions are starting to go soft, 5 to 10 minutes, add the sliced mushrooms.
7. If using spaghetti, check the cooking instructions on the packet. For the one I was using it was 9 minutes. Bring some water to boil add a pinch of salt and tablespoon of olive oil and the spaghetti. Leave to cook for instructed time checking it is ready by tasting a small amount. When ready drain the water and prepare to serve it with the meatballs.
8. After the mushrooms have fried for 3 to 5 minutes  add the tomato sauce, tablespoon of frozen Italian herbs and balsamic vinegar. Cook the sauce for about 5 minutes add the cooked meatballs and simmer for about 5 minutes.
9. If using courgettini you will need 1/2 a courgette per person. Wash them, and use a spiralizer, its like a large pencil sharpener. Put each portion on a plate, add a pinch of salt and pepper and a few drops of olive oil. Cook in the microwave for 1.5 minutes.
10. To serve top the spaghetti or courgettini with the meatballs and sauce.
Allergens
Allergens
This is an easy recipe for Italian Meatballs Pasta. The recipe was inspired by one of Tom's student cook books. I have added a few extra ingredients to make a tastier version. In the UK it is much more common to get heavily flavoured sausages. In Germany there is more meat in the sausages but they tend to be only lightly flavoured. I use plain Bratwurst and give them some Italian flavouring by adding balsamic onions, Italian frozen herbs and paprika. Its not worth going to the whole effort of making balsamic onions just for this recipe, but its definitely worth saving some when making my caramelised onion and cheese tartlets.
You can serve this dish with spaghetti or as a healthier alternative Courgettini. I'll hope you'll enjoy this Italian Meatballs pasta recipe, let me know what you think of it.
Any leftover meatballs can be served like a subway meatballs sub. Or alternatively add them to a homemade pizza or a liven up a plain shop bought pizza.
Add to Favourites