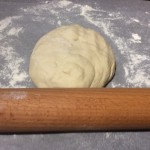 Pizza Dough
This is an easy recipe for great tasting pizza dough.
Instructions
1. Read the instructions on your yeast packet. The one I am currently using requires you to activate the yeast first. You can get instant yeast that doesn't require this step.
2. You can either make the dough by hand or use a mixer. I am lucky enough to have a mixer. There are plenty of you tube videos on how to mix by hand.  In the mixer, with a bread hook,  or bread machine, add the flour. Then in separate piles add the yeast, salt and oil. The salt will kill the yeast if it touches it directly. Add  the water and mix on a  low speed, you may need to add a little bit more  water. Mix for approx 8 minutes on a medium speed until you get a smooth and stretchy dough. If using a bread machine wait until it has finished the mixing stage before removing it.
3. Put the dough in an oiled  casserole dish and cover with cling film. Leave it to rise until it has at least doubled in size 1 to 2 hours.
4. Put your pizza stone in the bottom of the oven and turn the oven on to its highest fan setting.
5. Split your dough into flour and roll into balls.
6. Using some baking paper dust it with flour and semolina.  Roll out 1 on the balls of pizza into a circle shape. Repeat on separate sheets of baking paper.
7. Top with your chosen toppings. One of the tips to help get a crispy bottom is to put the cheese on before the tomato sauce. Don't add too much sauce as it will go soggy.
8. Cook until the base is crispy, repeat with the remaining pizzas.
Allergens
Allergens
This is a simple recipe for pizza dough. It will make 4 thin pizzas. It takes about 1 hour 15 minutes to make. One of the hardest thing to get right at home is a crispy bottom to your pizza. The top temperature I can get my oven is 230 degrees C, professional pizza ovens are much hotter than this and can cook pizzas in about 5 minutes. For me I need about 12 minutes to get a good crispy base. To help achieve this I use a pizza stone, put it in the oven at least 30 minutes before you are ready to start cooking the pizza and put the oven on as hot as you can.
I have tried lots of different ways to slide my pizza into the oven, without professional results. This maybe down to me having too thin pizzas or too much topping. The way I now make them is to dust a piece of greaseproof paper with semolina and roll the dough out on to it. Top with your chosen toppings and the cook on the pizza stone.
Check out my current favourite toppings on my Italian Meatballs and BBQ pizza.
Add to Favourites