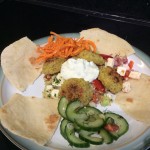 Falafel
Instructions
1. Follow the instructions on the packet. For the version I have the packet contents needs to be soaked in boiling water for 15 minutes.
2. Put a frying pan on a medium heat add 1 tablespoon of oil. Use a small ice cream scoop if you have one to portion up the falafel. Alternatively you could use spoons to portion the mix up. Flatten a bit and add to frying pan. I add the first ones to the edge of the pan as they will take longer to cook there. Repeat until you have used up all of the mix. Cook until the both sides are brown. You may need to add some more oil to the pan after you have cooked the first side.
3. Place on kitchen paper to drain off any extra oil.
4. Serve with the salad of your choice.
5

stars - based on

1

review(s)
I really love Falafel and DM's version is an easy to make version. DM is a chain of chemists in Germany and they do a good selection of health foods in them. This is definitely one of my favourite German Products.  I try and make most things from scratch but this particular packet mix really delivers on flavour. In the UK you can probably get something similar in Holland and Barretts. Falafel are made from Chickpeas which means they are naturally gluten free. If you are feeling naughty you could pretend that they are homemade. You can certainly say they were home cooked!
I like to shallow fry the falafel which makes them healthier. To make up for the guilt in cheating with the packet mix they are great served with taboulleh, salsa, Moroccan Carrot Salad and Flat Breads.
Add to Favourites