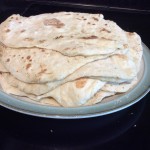 Flat bread or tortillas
Easy flat bread or tortillas recipe, that tastes great. Can be used in a number of recipes any extras can be frozen for later use.
Instructions
1. Put the bread flour into a mixing bowl and add the salt, sugar and yeast in separate piles ( the yeast needs to be kept way from the salt as it will kill it).
2. Add the olive oil and 3/4 of the water, mix gently adding more water a little at a time till you get a soft but not soggy dough.
3. Knead either by hand or machine for 7 to 10 minutes until the dough becomes smooth and silky.
4. Place dough into a lightly oiled bowl and cover with cling film. Put it somewhere warm and leave to rise until it has at least doubled in size, minimum 1 hour. Could be left for longer.
5. Dust lighthly with  plain flour a clean work surface (I use plain flour for this as it is cheaper). Remove your dough from the bowl and fold it  until all the air is knocked out and it has a smooth texture. Cut into equal size portions. I got 16 pieces from my dough.
6. Put a heavy based frying pan on a medium to high heat. Wipe with a little bit of vegetable oil or use a few sprays of oil spray.
7. Meanwhile dust your work surface again. Take one of the pieces of dough and roll it into a ball then roll out using a rolling pin till it is very thin approx 2mm and a roughly circle shape. Turn it occasionally to stop it sticking. Put it in the frying pan, you will get air bubbles coming through, press them down, gently with a fish slice or spatula. After 1 to 2 minutes check the dough, flip it and cook the other side, this side won't take as long.The photo gallery shows what you are aiming for. If using straight away wrap in foil to keep warm otherwise leave to cool on a wire rack.
8. Whilst you are waiting for them to cook, you can roll out the next flat bread. I wipe the pan with kitchen roll between flat breads to stop there being too much flour build up. Oil the pan and then repeat the process until all the dough is cooked.
9. If you plan to freeze some of the flat breads leave them to cool and then sandwich them between baking paper to stop them sticking and wrap them in cling film. They defrost quickly or the process can be speeded up by using the defrost setting on your microwave.
Allergens
Allergens
This easy flat bread or tortillas recipe is really worth making the effort for. They can be served with dips or filled to make Quesadillas, enchiladas or wraps. Any extras can be frozen and used at a later date. They are far more tasty than the packaged shop bought tortillas. I use them in a number of recipes check out some of these for some inspiration Beef Enchiladas, Houmous, Sweet Potato and BBQ Enchiladas and Chicken Quesadillas.
I am lucky enough to have a Kitchen aid which makes the dough easy to mix. Alternatively you could use a bread maker and take the dough out after it had done the rise phase. Or do it the old fashioned way and knead the dough by hand, good for getting rid of tension and excellent for the bingo wings (flabby arms).
Add to Favourites