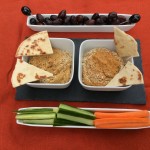 Homemade Houmous
Tasty homemade houmous recipe, original or spicy with paprika.
Instructions
1. Rinse and drain the tin of chick peas.
2. Put all of the blended ingredients in a food processor and blend until smooth. Add paprika if you like it. Or do a mix of half spicy half original.
3. Put a  frying pan on a medium heat ( no oil required). Toast the sesame seeds for a few minutes until they have gone light brown, keep an eye on them so they don't burn. Stir into the houmous and then serve.
Allergens
Allergens
This is an easy homemade houmous recipe. Houmous is hard to find in Germany and this version can be easily made up using mainly store cupboard ingredients at a fraction of the cost or shop bought. If you like it spicy add some paprika powder till you get the desired level of heat. Goes great with my homemade flat breads or with carrot and cucumber sticks. It will keep covered in the fridge for a few days.
Add to Favourites