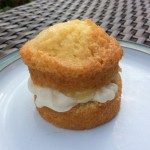 Lemon Drizzle Cake
Lemon Drizzle Cake is a true British Classic. It looks simple but it truly delivers on taste. If you type lemon drizzle into Google you get almost 1 million images, that shows just how much it is loved.
Instructions
1. Decide what size cakes you would like. My current favourites are the mini sandwich cakes as the have a nice golden finish and are easy to fill. Cup cakes are also a good start for a new baker. If making a large cake use two 20 cm tins, line them with baking paper and lightly grease the sides with butter. For cup cakes use muffin tins and paper cases. For mini sandwich tins spray lightly with oil spray or wipe with a tiny bit of oil on kitchen paper.
2. Weigh the eggs in their shells you need approximately 250g. Then weigh the same weight of the butter, sugar and self raising flour, if you haven't got this type of flour see baking do's and dont's for an alternative. Put all of the cake ingredients in a bowl and mix till flour has been fully incorporated and mixture looks light and fluffy, be careful not to overwork it.
3. Preheat the oven to 170 degrees Celsius on a fan setting.
4. Spoon mixture into cake tins or cases. An ice cream scoop makes it easier to do for the mini cakes or cup cakes (as you can see from my photos I had to a little bit too much mixture in my mini tins, next time I will fill them to 3/4 full). If making a large sandwich cake, spread the mixture equally between the two tins and then level it with a knife.
5. Once the oven is up to temperature, put the cakes in on the middle shelf. Cupcakes and mini cakes will take 20 to 25 minutes to cook. For the larger sandwich cakes these will take 30 to 35 minutes. Don't open the oven before the minimum time (unless you smell burning) as this is very likely to cause your cakes to sink in the middle. When cooked the cakes should be golden brown, see pictures, and a skewer should come out clean when the cake is poked.
6. Whilst the cakes are cooking first make the Icing. Put the icing sugar in a food processor and blend until the lumps have gone. Then add the vanilla, butter and half the milk and blend again. Test the consistency of the icing, you are after something that is easily spreadable but not too runny. If the mixture is too thick add a little bit more milk.
7. Make the drizzle by juicing lemons until you end up with roughly 100ml of juice, removing any pips. Add 2 tablespoons of sugar once the cakes have come out of the oven, do not stir it in as for the finished cake you see sugar granules on top of the cake.
8. Once the cakes are cooked, leave them to cool for 5 minutes. After 5 minutes, stab holes in the cake with a skewer and then spoon drizzle mixture over the top of the cakes, trying to get a sprinkling of sugar and juice on each cake. Leave to cool for a further 10 minutes before removing the cakes from the tin. Leave to cool on a wire rack.
9. Once the cakes are cold, they can be finished with the icing and spoonful of lemon curd (jam) if you have it. I will a post the recipe on how to make this soon.
For mini cakes cut in half and pipe a ring of icing around the outside and put a spoonful of curd in the middle.
For a large cake decide with half you would like to be the top. With the bottom half level the top of it with a knife and then spread a layer of icing and top with jam. Then place the other cake of top.
For cupcakes, turn them into butterfly cakes by cutting a circle out of the top using a cookie cutter. Cut this circle in half, fill the cake with a spoonful of curd/jam, add a swirl of the icing and then place back the wings (semi circles of cake)
10. These cakes will keep for a few days as the drizzle helps them stay moist. They never normally last that long. Keep them in an airtight tin.
Allergens
My version of Lemon Drizzle Cake combines a sponge cake with lemon curd (jam), a lemon and sugar drizzle and butter icing. If you are new to baking start by making mini or cupcakes, they are a lot easier to get the baking time right. Have a read of my cake cake baking tips. In Germany they don't sell self raising flour, however they do in the Netherlands. If you can't find it I explain how to make it on the cake baking tips page.
Science says that for a perfect cake you need equal quantities of sugar and fat and this recipe has it at its core. You weigh the eggs and then use that weight as a guide for the other ingredients. Whatever you do use butter, not margarine it really delivers the best taste. I was delighted to find out that butter isn't as bad as we all thought it was. To celebrate make these cakes. Measure the ingredients carefully the Women's Institute use a Victoria Sandwich as one of the cakes to test the skill of the baker. This recipe is based on a traditional sandwich cake.
Lemon curd jam is easy to make in the microwave, or on the stove top.
Add to Favourites