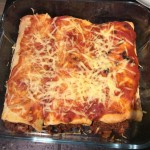 Homemade Beef Enchiladas
This is a tasty homemade beef enchilada recipe, using mince beef, homemade sauce and flatbreads (you can use shop bought instead).
Instructions
For Enchilada Sauce
1. Heat vegetable oil in a large saucepan on a medium to high heat for 1 to 2 minutes. Add the flour and stir for 1 minute till combined.
2. Add the tomatoes and spices add half of the chilli and paprika and cook for a few minutes before trying it. If you need more heat add the remaining chilli and paprika and test again, you can add more if you really like it spicy. Then add the syrup, the stock pot and a cup of boiling water. Cook on a low heat for 15 minutes.
For the filling
3. Meanwhile chop and fry the onions in a little oil. When they are soft add the beef and brown it, draining off any excess  oil. When the sauce is ready add 1 & 1/2 cups to the mince and cook for 5 minutes.
4. Preheat the oven to 190 degrees C.
5. Grate the cheese. Place 1/4 of the mince and 1/5th of the cheese inside each of the tortillas and roll together. Put in a casserole dish with the join on the bottom. Repeat with the other tortillas. Pour the some of the remaining sauce over the top of the enchiladas and sprinkle over the remaining grated cheese.
6. Bake in the oven for 15 to 20 minutes.
7. Serve with tortilla chips and dips
Allergens
These are easy to make homemade Beef Enchiladas. Most of the recipes you find posted online cheat and use ready made sauce which you can't find here. This easy enchilada sauce takes about 20 minutes to make and you can make it as hot as you like. The quantities of sauce I have given here is enough for 2 meals. As the sauce uses powders rather than fresh herbs you can store half of the sauce in the fridge in a sterilised jar for 2 to 3 weeks. Serve with tortilla chips and easy guacamole and cheesy sweetcorn dip.
I have used homemade flatbreads in my version. These taste far better than the shop bought alternatives, any baked good that can last for 6 months can't beat homemade. They can be made in advance and kept in the freezer. See my flat bread post for more details. They are really worth the extra effort.
Add to Favourites