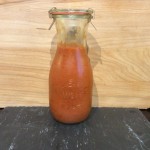 Homemade Enchilada Sauce
This is a tasty homemade enchilada sauce recipe.
Instructions
1. Heat vegetable oil in a large saucepan on a medium to high heat for 1 to 2 minutes. Add the flour and stir for 1 minute till combined.
2. Add the tomatoes and spices add half of the chilli and paprika and cook for a few minutes before trying it. If you need more heat add the remaining chilli and paprika and test again, you can add more if you really like it spicy. Then add the syrup, the stock pot and a cup of boiling water. Cook on a low heat for 15 minutes.
3. Once made it can be used straight away, stored in sterilised jars or bottles in the fridge for several weeks or even frozen once cooled. It should make enough for two meals. Check out my tips page on how to sterilise jars.
Allergens
Allergens
This is an easy recipe for homemade enchilada sauce. Most of the Mexican recipes you find posted online cheat and use ready made sauce which you can't find in Germany. This easy enchilada sauce takes about 20 minutes to make and you can make it as hot as you like. The quantities of sauce I have given here is enough for 2 meals. As the sauce uses powders rather than fresh herbs you can store half of the sauce in the fridge in a sterilised jar for 2 to 3 weeks.
Add to Favourites