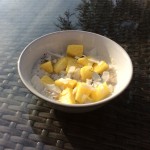 Pina Colada Porridge
This is a tasty pina colada porridge that could be completely lactose free. Inspired by the cocktail.
Instructions
Put oats and combination of coconut milk and semi skimmed milk in a bowl. Microwave on full power for 2 minutes. Keep an eye on it whilst cooking as you might need to pause it to stop it boiling over. You should end up with a thick porridge if you don't cook for a little longer.
Chop the pineapple into bite size pieces.
When cooked remove the bowl from microwave add the pineapple and stir.
Top with Chia seeds and coconut pieces.
If you need it sweeter add some Agave syrup
This healthy Pina colada porridge could be made completely lactose free. It is inspired by the cocktail using coconut milk and fresh or tinned pineapple. The simple rule is 1 part porridge to 3 parts milk if you need to make a larger portion. If you are watching your calories use light coconut milk and some semi skimmed milk. As with everything lower calorie the full fat version is much richer and tastier. Takes 5 minutes to prepare and cook in a microwave. Once cooked top with chia seeds, a truly super food, and dried coconut.
Add to Favourites