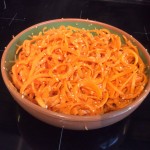 Moroccan Carrot Salad
Easy raw salad great with Middle Eastern dishes.
Instructions
1. Wash and peel the carrots. Grate or spiralize the carrots.
2. Toast the sesame seeds in a dry frying pan. Keep an eye on them as they can burn very quickly.
3. Mix together the other dressing ingredients. Add the sesame seeds and add to the grated carrot stirring well to cover all of the carrots.
4. Wrap with cling film and refrigerate until you are ready to serve.
Allergens
Allergens
This is a Moroccan carrot salad. Ok I'll own up its not really from Morocco but uses my favourite flavours of Morocco and is great served with falafel. I hope that they would like it. It will last in the fridge for a couple of days. Rather than grating my carrots I used my spiraliser which gave them a great shape. You can grate them instead if you haven't got one.
Add to Favourites