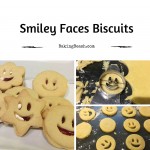 Smiley Faces Biscuits
Homemade version of the classic British Smiley Faces Biscuits.
Instructions
For the biscuits
1. Mix all of the biscuit ingredients together in a bowl. When it is just combined place in a freezer bag and leave to chill in the fridge for 30 minutes.
2. Lightly grease  the baking trays, you will need 2, and dust with flour. This will stop the biscuits from sticking.
3. Preheat the oven to Fan 170 degrees Centigrade.
4. Roll out half of the biscuit dough to approx 3 mm thick. Cut out tops and bottoms of choosen biscuit shapes. Use a slice or pallete knife to move them which helps retain their shape. Place on the baking tray leaving some room for them to expand on baking. Repeat until all of the mixture is used.
5. Bake in the oven for 12 to 15 minutes until the biscuits are lightly brown.
6. Leave to cool on the trays for 2 to 5 minutes before placing on a wire rack to cool.
For the Icing
7. Sieve or blend the icing sugar to remove the lumps. In a bowl whisk together the icing sugar, egg white and lemon juice. This takes about 5 minutes using a machine. If you try and do this by hand it will take much longer, you will have definitely earned your biscuits if you do it this way. You are aiming for the icing to reach a point where it will stay on a spoon with out falling off.
To fill the biscuits
8. On cooled biscuits spread a little of the icing and a small amount of jam and sandwich together. Leave to set for a few minutes. Repeat until all the biscuits are used up.
9. Store in an airtight tin, or your tummy.
Allergens
Smiley Faces Biscuits are one of the great memories from my childhood. They are probably the British version of the Oreo cookie. The originals are filled with icing and jam and is is my version here. I bought this cookie cutter set from Lakeland last year. This is my first attempt at making them and I was delighted at how well they turned out. If you can't get a special cutter you could make round biscuits and fill them with icing and jam or manually try to cut out some faces. The recipe is based on a vanilla biscuit filled with royal icing and jam.
I made this set of Smiley Faces biscuits for a Team Building event at work. None of my German/ International Colleagues had every tried the originals but they all loved this version.
Next time out I'm going to try some oreo inspired chocolate smileys.
Add to Favourites