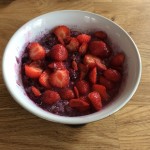 Very Berry Porridge
This is a tasty very berry porridge that could be completely lactose free if you use soya or almond milk. Inspired by summer.
Instructions
1. Put oats, milk  and frozen fruit in a bowl. Microwave on full power for 2 minutes. Keep an eye on it whilst cooking as you might need to pause it to stop it boiling over. You should end up with a thick porridge if you don't cook for a little longer.
2. Chop the strawberries into bite size pieces.
3. When cooked remove the bowl from microwave add the strawberries and stir.
4. Top with Chia seeds and goji berries.
This is a healthy summer Very Berry porridge. To keep the cost down and for convenience I have used frozen blueberries and raspberries. The cooked porridge is topped with strawberries and goji berries. I add some chia seeds to make it even healthier for you.
Add to Favourites