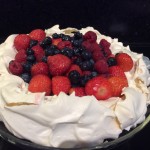 Summer Berry Pavlova
Great party recipe use your favourite berries for the filling. Great for people who are Gluten intolerant.
Instructions
1. You need to have a very clean bowl and tools to make a successful meringue. Any fat in the bowl will limit the amount the eggs will rise. To do this clean the bowl throughly in soapy water and rinse. Then wipe with a few drops of fresh lemon juice, orange juice or even white wine vinegar and rinse throughly with water again and leave to drain. I dry it with a piece of kitchen paper.
2. Your eggs should be at room temperature. If you keep them in the fridge remove them from there at least 1 hour before making the meringue. Separate the eggs one at a time into a little dish. if by accident you break a yolk you have only wasted 1 egg. Once you have successfully separated 1 egg put it into your main mixing bowl. Then repeat until you have all 3. Keep the egg yolks these can be used in other recipes.
3. Do you know whether you oven has good temperature control? If it is a bit on the hot side you will need to cook this recipe at a much lower temperature. If in doubt buy a cooking thermometer and do a test. If the meringue starts to go a bit golden in colour turn the oven off and leave it to cool in there with the oven door slightly open.
4. Measure out your sugar and put to one side. In a separate dish mix together the cornflour and vinegar.
5. Preheat your oven to fan 130 degrees C.
6. Start mixing the egg whites on the highest setting your whisk or machine will go to. Once it has started to look like clouds add the sugar a tablespoon at a time and continue to mix on high. When you have almost finished adding all of the sugar add the mixed cornflour and vinegar. Finish with remaining sugar.
7. You should now have a very thick mixture that can be held over your head without it falling out.
8. On a baking tray line it with a silicon sheet or baking paper. I am lucky to have silicon sheet with circles drawn on it so it makes it easier to make the pavlova. If you haven't got this. Draw a circle with a dinner plate and use this as your guide. If you are using paper put a few tiny dots of the meringue on the baking sheet in the corners to stick the paper to otherwise it will fly around in the fan oven.
9. Spoon the meringue into the middle of the circle and then using a spatula push it out to the edges. You are aiming to make a bowl shape out of the meringue. Make it a bit spiky on the edges these are the bits that go nice and crispy when cooked and every one fights over in my house.
10. Cook the pavlova for 1 hour. Check it after 30 minutes. If it is starting to colour already turn the temperature down by 10 to 20 degrees.  It should be a pale colour. Turn the oven off and then leave to cool in the oven for a further 2 hours.
11. Just before serving fill with the whipped cream or creme fraiche and then sprinkle over with the berries. Try and find a flat surface large enough for the pavlova to serve it on. I use my fancy cake stand which has a small dip in the middle and my Pavlova cracked under the weight of the berries and cream. Its still tasted good though!
Allergens
This Summer Berry Pavlova is a great dessert recipe for anyone who is gluten intolerant. It only contains egg white,  lots of sugar and a little cornflour and white wine vinegar. Serve it with whipped cream or creme fraiche and the best summer berries you can get your hands on.
In this recipe I outline a few tips I have learnt over the years to hopefully help you get a great meringue. You will need a hand mixer or machine to make this unless have very strong wrists and a lot of time. Little hand held whisks can be bought for very little money.
The big taste advantage of making your own meringue is that you get a chewy inside. In the shop bought alternatives these are very dry and crumbly to eat. This recipe needs a bit of patience but is definitely worth the wait.
In a lot of recipes you have to separate eggs. This is a great way to use up egg whites. If you don't have 3 spare egg whites use a ratio of the amounts for the volumes you have and make mini meringue nests instead rather than a big one as shown in the recipe here. You do not have to use the egg whites on the day they have been separated. They can be kept up to the time of the original use by date on the egg or 3 weeks! Put them in a container and cover them with cling film and store in the fridge. I have a macaron cook book and in there it talks about using 3 day old "aged" eggs. These are eggs that have been separated and stored for 3 days in the fridge. So we needn't ever throw them away again. Leave them to return to room temperature before using. Egg yolks will only keep for 3 days in the fridge, again cover them with cling film. My mum always used to Creme Caramel or Custard tarts with her left over egg yolks.  I used mine to make an easy vanilla custard, this ended up in my Rhubarb and Custard cake but could be used to make Portuguese Custard tarts instead.
The dessert Pavlova was inspired by the Russian Ballerina Anna Pavlova. She went on Tour to Australia and New Zealand in the 1920's  and the two countries have been arguing over who really invented the dish. It is a great one.
Add to Favourites