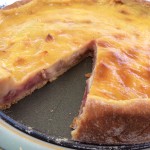 Rhubarb and Custard Cake
German style Rhubarb and Custard cake made from scratch with ingredients you can get anywhere.
Instructions
For Dough
1. In a bowl add the flour then in separate piles add the yeast, sugar, salt and butter. The salt will kill the yeast if it touches it directly. Add 3/4 of the milk, add the rest if it is too dry and mix/ knead until you get a smooth dough. Put the dough a lightly oiled bowl and  cover with cling film. Leave it to rise until it has at least doubled in size 1 to 2 hours.
For Rhubarb
2. Wash and cut the rhubarb into 2 to 3cm pieces. In a bowl add Rhubarb and sprinkle sugar over the top, add grated orange zest and 2 to 3 tablespoons of fresh orange juice. Cover with cling film and leave until dough is ready.
For Custard
3. In a small saucepan (not on the heat yet) whisk together sugar, cornflour and egg yolks. In a separate jug mix together milk and schmand/cream. Gradually mix the liquid into the saucepan.
4. Heat on a medium setting, whisking all of the time. The mixture will eventually thicken and come to the boil. Take off the heat and stir in the vanilla extract. Cover the custard with cling film and leave to cool (this stops a skin forming on the custard).
Making up the Cake
5. Wait to  the dough has risen and the other steps have been completed. Preheat the oven to Fan 160 degrees.
6. Use a 23cm springform cake pan. Grease the tin with butter and lightly dust with flour, tapping out any excess.
7. Dust your work surface with flour and tip your dough out on the floured surface. Roll the dough out till it is big enough to almost fill the tin. Press it well into the base and sides of the tin.
8. Fill the bottom of the tin with the Rhubarb, leaving behind any of the juice. Top with the cooled custard. Spreading it evenly. Trim the dough 1/2 cm above the top of the custard and lightly fold it over.
9. Bake in the oven for 45 to 50 minutes. Leave to cool on a wire rack. Once cool cover and refrigerate till ready to serve.
This is a German Style Rhubarb and Custard Cake.  The traditional German version would be a Rhabarber schmand kuchen. The German's are definitely more creative than us British when it comes to using Rhubarb and this is just one of the examples of cake that they use it in. My friend Marijana brought one in from her local farm shop for her Birthday Celebrations. This is a fusion German/British cake as I have made the topping closer to the British classic custard or Creme Anglaise.  It has taken a few attempts but this is a good one and can be made with out specialised German ingredients.
Most German cakes are very different in style from British ones. They tend to use a yeast dough as the base and then top with in season fruit. The advantage of using a dough base is that you avoid getting a "soggy bottom". You have to be patient to make this cake, but it does taste good. This one uses a custard made from scratch with Schmand. Schmand is a very popular German Cake ingredient it is a type of sour cream. If you can't find schmand you can use double cream or sour cream instead in this recipe.
This is a great recipe for 3 left over egg yolks. If you are making this one first the left over egg whites can be used in my pavlova recipe, just store in the fridge in a container covered with cling film. If you have a little left over Rhubarb make my Rhubarb Crumble Breakfast.
Add to Favourites