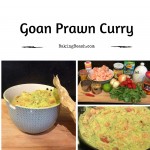 Goan prawn curry
Easy and tasty prawn and coconut curry.
Instructions
1. Throughly was the coriander, chop the cream of coconut into large chunks and then blend everything in a blender. Start by using 1 chilli and add more if you like it hotter.
2. Slice the onions and chop the tomatoes if half if using cherry tomatoes or into cubes if using larger pieces.
3. In a large frying pan add a tablespoon of vegetable oil. When it has heated up add the mustard seeds and fry for a couple of minutes. Then add the onions and fry for five minutes or until they are starting to go soft.
4. Put on the rice to cook, following cooking instructions on the packet.
5. Add the sauce and tomatoes and cook for approximately 5 minutes add some water if it gets a bit dry,
6. Add the prawns, stir occasionally. For frozen prawns they take about 5 minutes to cook. With fresh it would be a little bit less. Cut the lime in half and squeeze in the juice of half the lime.
7. To cook the poppadoms spray them with a little oil on 1 side and then microwave them two at a time with a piece of kitchen roll on top. Cook for 1 to 1.5 minutes.
8. When the rice is ready serve the curry.
Allergens
Allergens
This is a simple recipe for a Goan Prawn Curry. I learnt how to make a similar one on a Indian cooking course. One of things I really miss living in Germany is being able to go out for a good curry. So since I have been living here I have learnt to make a few. This one only takes about 20 minutes to make and is great served with poppadoms and rice.
A Goan curry traditionally has coconut milk and tamarind paste. This helps give it a tasty sweet and sour taste. Fresh coriander is essential for this recipe, don't try and use powder or seeds as an alternative as it won't deliver the flavour.
If you don't like prawns you could use white fish as well or even make a vegetarian version my using a tin of chick peas instead. Jamie isn't a prawn fan he had his curry with left over chicken last time.
In Duesseldorf the best place I have found to buy coriander is in Fresh Asia on Frederich Ebert Strasse, near the Ost Strasse tram stop and only 5 minutes walk from the main station. Fresh Asia and Hanaro Markt next door are a great inspiration for all of my Asian cooking.
I'll hope you'll enjoy this Goan Prawn curry. If you try the sauce with some other alternatives let me know if you have some good results.
Add to Favourites