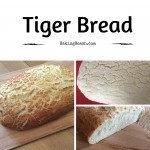 Tiger Bread
Great tasting  loaf with a tiger crackle topping a great Dutch classic bread. Takes some time to make but well worth the effort.
Instructions
1. Check your instructions for the yeast. The type I am currently using requires you to activate the yeast for 15 minutes in water with a bit of sugar. Follow the instructions on your packet of yeast.
2. In a bowl measure out the other bread ingredients. When the yeast is ready add it to the other ingredients and mix. You may need to add a little bit less or a little bit more water to get a smooth dough.  Knead for approx 7 minutes until you have a smooth dough.
3. Lightly oil a bowl and cover the dough and leave to rise until it has at least doubled in size, 1 to 2 hours.
4. Just before the end of the rising time make the Tiger glaze.  Mix together all of the ingredients into a spreadable paste.
5. Lightly oil a baking tray.
6. On a lightly oil board. Knock the air out of the dough by folding it a few times and shape it so it is  a freeform long bread shape.Ensure that any joins are on the bottom.
7. Thickly spread the Tiger Glaze over the top, you will probably have a little bit left over.
7. Cover the bread and leave to rise until the loaf has doubled in size, for me this took about an hour. I cover it using the top of my round cake box, alternatively you could use a large plastic bag. Ensure that the dough doesn't reach the top. There should be some cracks in the tiger glaze if there isn't leave it for a little bit longer.
8. Preheat the oven to 220 degrees C Fan. I am lucky enough to have a setting on my oven with an interval steam option. Steam helps develop a crust on the top. If you haven't got this setting you can replicate the effect by putting a few ice cubes into a baking tin and put it in the oven.
9. Put the bread in the oven and cook it for 25 to 30 minutes. The bread is ready when it sounds hollow on the bottom when lightly tapped. If it doesn't sound hollow cook it for a few more minutes.
10. Leave the bread to cool on a wire rack before slicing.
One of things I always buy when I visit the Netherlands is Tiger Bread. I hadn't tried it before living in Germany and the closest thing we have found to a soft white British loaf, but better. As its about a 50 minute one way trip to the Dutch border from Duesseldorf, I have had several attempts to make it. A trip to Roermond normally ends up with a visit to the outlet mall and to get the excellent Churros and melted chocolate in the old town so it just as well we don't go too often!
When I started this website I asked a Dutch friend if he had any Dutch family favourite recipes he would like to post. He was struggling to think of any recipes he would call typically Dutch. Maybe its because he has a French wife and most of the cooking at home is French. He has banned me from posting Chips/Pommes/ Fries with Satay sauce. This is my favourite Dutch recipe currently and hopefully we will be able to add a few more great Dutch classics soon.
Lots of the UK supermarkets are now selling Tiger bread in the UK and it is becoming a firm favourite there. The German's style of breads have much more texture and flavour. Having grown up with soft white bread it is one of the things all us Brits crave.
If you haven't tried Tiger Bread it is a soft white loaf with a crackle glaze on top. It should probably be called a Leopard bread, but as Tigers are most peoples favourite big cat it is probably why it is called that. There has been lots of discussion of UK baking forums as to how to make the crackle glaze. I have tried a few of them but they didn't really work. So I dusted off my Dutch knowledge, not really I used google translate, and checked out a few of the Dutch Website recipes. In Dutch Tiger bread is called Tijgerbrood. In this version I have combined a classic British Bloomer recipe, with a mix of two of the recipes I found on Dutch cooking websites. You make the main loaf as normal and when you are doing the second rise you add the crackle mixture for top. The cracks are caused by using rice flour in the crackle glaze it doesn't have any gluten in it so it cracks when it rises. You can find rice flour in Health food shops.
Hope you like this recipe and that it works for you too. We like to eat ours with jam or pate or as a cheese and ham sandwich.
Add to Favourites