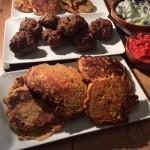 Onion and Carrot Bhajis
An indian classic starter. Tasty, veggie and gluten free.
Instructions
For the Bhajis
1. Slice the onions and fry slowly of a medium heat for roughly ten minutes until they are soft. Stir frequently to stop them from burning.
2. Put all of the dry batter ingredients into a large bowl and mix together (except the cardamon seeds). If you have very lumpy gram flour you will need to sieve it.
3. Make a hole in the middle of the flour and gradually add the water. Use a whisk and gradually incorporate the flour, add more water and gradually mix in the remaining flour. You need to aim for a reasonably thick smooth batter.
4. Peel the root vegetables. At this time of year only carrots are readily available in Germany. Use a vegetable peeler to get long shavings of the carrots.
5. Mix the carrots in half the batter, add the cardamon to this mix as it goes really well with carrots. In a separate bowl mix the other half of the batter and the fried onions.
6. Add some oil to a large frying and spoon in the batter using an ice cream scoop. They are ready to flip over when the tops start to dry out. Cook the other side and then remove any excess oil with a piece of kitchen paper. Repeat until you have used all of the batter.
For the Raita / Cucumber Dip
7. Wash and cut the cucumber into 2cm long thin strips
8. Mix the yoghurt with the mint sauce. If you haven't got mint sauce you can use chopped fresh mint and 1/4 teaspoon of vinegar. Add the cucumber and its ready to serve.
For the Red Pepper Dip
9. Put all of the dip ingredients in a food processor with 1 tablespoon of water and pulse until you have low large pieces of the red pepper left.
Onion Bhajis are one of my favourite indian starters. In this recipe I make Onion and Carrot Bhajis. Keep the individual vegetables separate and mix with the batter in separate bowls. I have made these slightly healthier by shallow frying them rather than deep frying them. You can of cause make the naughtier version instead. To mix it up a bit I also make them from other root vegetables,  parsnip and raw beetroot bhajis are both great.
Bhajis are made with gram / chick pea flour which is gluten free. You can make them as spicy as you like.
I always serve mine with a simple Raita, a cucumber, mint sauce and yoghurt dip. Another great and simple dip is red pepper and dried coconut. In the picture gallery they are shown with my spicy meat koftas the recipe for those will be coming soon.
Add to Favourites