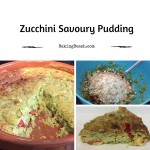 Zucchini Savoury Pudding
Possibly a Slovenian dish a great Zucchini and Egg dish.
Instructions
1. Preheat the oven to 180 degrees Centigrade.
2. Chop the onions and zucchini in a food processor or finely grate them.
3. In a large bowl mix the onions, zucchini, grated cheese, sliced red peppers and chopped rosemary.
4. Grease a casserole dish with a little oil.
5. Add the flour, oats and baking powder and season with salt and pepper, don't mix it in yet.
6. In a jug mix together the oil and eggs and then add to the other ingredients and stir in gently till it is all combined.
7. Pour into the casserole dish. Cook for 45 minutes or until the pudding has set.
8. Can be served either hot or cold.
Allergens
This is a really tasty Zucchini Savoury Pudding. My good friend Agnes has recently returned from a holiday from Slovenia and bought a Slovenian Cooking magazine back with her. One of the recipes in there was for a Slan bučkin Puding. We aren't sure whether it is really a Slovenian Classic Dish but it is the first time any of us had seen it. Sounds horrible but had a great picture. I have changed the recipe a little bit to make it vegetarian and a little bit healthier.
A Zucchini Savoury pudding combines grated zucchini, red onions, eggs, cheese and flour and is baked in the oven to make a tasty veggie dish. It is great served with a simple side salad and some garlic dip. It got a big thumbs up from Tom. I will definitely make it again.
Add to Favourites