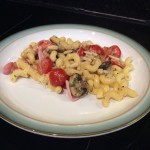 Prep Time: 10 minutes
Cook Time: 15 minutes
Print
Bacon and Mushroom Pasta
This is a very easy and tasty bacon and mushroom pasta with tomatoes and cheese. The secret ingredient is mayonnaise. A great student dish as it can made on a low budget.
Instructions
1, Chop the onion finely and fry in 1 tablespoon of oil in a large frying pan on a medium heat for 5 minutes.
2. Put the pasta on and follow cooking instructions, add some salt and a splash of olive oil to the sauce pan.
3. Clean and slice the mushrooms and add them to the frying pan, cook for a further 5 minutes.
4. Meanwhile grill the bacon till it is crispy and then chop into bite size pieces.
5. Add the mayonnaise, chopped parsley, halved cherry tomatoes and a pinch of pepper to the frying pan.
6. Add half a cup of the pasta cooking water to the frying pan and stir.
7. When the pasta is cooked drain it and add it to the frying pan and stir.
8. Top with grated cheese and then serve, sprinkled with pine nuts if you like them.
Allergens
I have tried different recipes for bacon and mushroom pasta and this one tastes great. Don't be scared to use the  mayonnaise it doesn't over power the dish and enables more of the flavour of the bacon to shine through when compared to traditional cream sauces. British bacon is much thicker than the German equivalent, but you should still be able to get a good result. Alternatively you could use Katenschinken or speck (German ingredients), if you do fry it with the mushrooms and onions. It's one of my son Tom's student favourites as it can be made on a low budget.
Add to Favourites