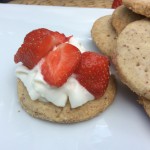 Prep Time: 10 minutes
Cook Time: 25 minutes
Print
Low GI Hazelnut Shortbread
Tasty biscuits with out any sugar.
Instructions
1. Put all of the shortbread ingredients in a food processor and pulse till they have almost completely combined. Finish off the remaining mixing by hand so that you do not overwork the mixture, this would lead to tough biscuits. Put the mixture in a freezer bag and cool in the fridge for 30 minutes, I had to leave my mixture for longer as it was a very hot day.
2. Preheat the oven to Fan 180 degrees Centigrade.
3. Grease your baking trays with the butter wrapper and dust lightly with flour. This should stop the biscuits from sticking. You can use a silicon sheet but the biscuits will be less crunchy on the bottom.
4. Lightly dust your work surface with flour. With a lightly dusted rolling pin roll out half the mixture till it is approximately 3 to 4 mm thick. Using a cutter or a glass cut out rounds. I used a 6cm cutter. Don't go too large as it is hard to move the rounds to the baking tray without squashing them. Cut the rounds by pressing down and then using a knife to lift them up and place them on the tray. Leave some space for the biscuits to expand when cooking. Repeat until all the mixture is used up. I managed to get 20 biscuits.
5. Cook for 12 to 15 minutes until there is a slight change in colour on the biscuits. They will still seem soft. If you leave them in the oven till they are hard they will be over cooked. When they start to smell nice it usually a sign that they are almost done. Leave to cool on the tray for 10 to 15 minutes till they are firm enough to handle before gently lifting and cooling on cooling rack, you will need to use a palette knife to move them.
6. Once cold store in an airtight tin.
7. Serve with a nice cup of tea or as we did with strawberries and raspberries and a bit of cream.
Allergens
These biscuits have been created with Aunty Teresa in mind. She has a very sweet tooth and has unfortunately now got type 2 diabetes. She lives in Austria and one of the special treats she buys in the UK is some diabetic shortbread from Boots. I have tried it and I thought I could do better. Like most people we crave the things we know we aren't supposed to have. This is a healthier version of a traditional shortbread, but obviously not as healthy as an apple!
This biscuit is a Low GI Hazelnut Shortbread. The Glycemic Index measures how fast your body absorbs sugar. Foods that are high sugar but absorbed more slowly have a lower GI index. Compared to a traditional shortbread recipe it uses spelt flour which has a lower GI index and the same calories as wheat flour. Spelt flour is also easier to digest, though it still contains gluten, it has more protein than traditional wheat flour and is also high in fibre and B vitamins. I have also replaced regular white sugar with an artificial sweetener. The one I have used today is sucolin which creates good results, not as good as sugar, but still pretty good. Semolina adds some crunch. To add some additional flavour I have used some hazelnuts. Hazelnuts are high in calories but have great health benefits. Hazelnuts are high in monounsaturates which helps to lower "unhealthy" LDL cholesterol in the blood and high in vitamins E and B vitamin biotin that helps support healthy skin. If you can't eat hazelnuts you could replace it with additional flour instead.
As it is the height of strawberry season at the moment we had them with some whipped cream and some strawberries, yummy. The biscuits are also great on their own. They will keep for several days in a sealed container if you aren't too greedy!
Add to Favourites