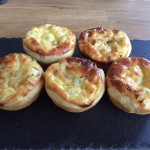 Leek and Cheese Mini Tartlets
This is an easy and tasty recipe. Great for parties. Use your favourite cheese.
Instructions
1. Grease the tin with butter and dust with a little flour. This will stop it sticking.
2. Wash and cut the leek into slices. Fry on a medium to low heat with the butter, stirring occasionally for roughly 10 minutes. Whilst you wait start on the pastry.
3.Lightly dust your work surface with flour. Unroll the packet of pastry.  Sprinkle it with some chopped fresh herbs. I used chives and parsley. Roll the pastry up along the long edge. Cut the pastry in half. Roll it stretching it slightly till the two pieces are the roughly the length that they originally were. Divide each half into 6 equally sized pieces. You should have 12 in total. Stand a piece up on its end and then press downwards with the palm of your hand. You should have a circle shape. With a rolling pin roll the circle out till it is roughly large enough to fill the bun tin. Then place it in the tin. Repeat with the remaining 11 pieces. Put the tin in the fridge to cool until the filling is ready.
4. Once leeks are ready remove from the pan and leave to strain in a sieve. Press the leeks to remove all of the excess liquid. Leave to cool.
5. Prepare the remaining filling ingredients. Grate the cheese, thinly slice the spring onions and then mix it with the remaining filling ingredients.
6. Preheat the oven to Fan 200 degrees Centigrade.
7. Once the pastry has rested for 20 minutes fill the bun tin with the filling. I use an ice cream scoop which is roughly the right size. Try not to over fill the pastry as the filling will puff up when it cooks.
8. Cook for approximately 25 minutes until pastry and topping are slightly brown.
9. Leave to cool of a wire rack for 15 minutes before serving. Can be served warm or cold.
Allergens
This is an easy recipe for Leek and Cheese mini tartlets. Mine and Tom's favourite is to make these with Goats cheese, Gruyere would also be a good alternative. It is a great recipe for party Canapes, starters or a light lunch if served with salad. This recipe uses a roll of ready made from the fridge all butter puff pastry. To make it a little bit special you add some chopped herbs to the pastry. I bake the tartlets in a mince pie/bun tin.
As a lower fat alternative you could try my Caramelised Onion and Cheese Tartlets.
Add to Favourites