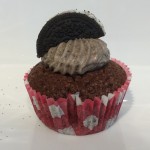 Cookies and Cream Cup Cakes
This is a simple cupcake inspired by our favourite Ben and Jerry's Ice Cream
Instructions
1. Preheat the oven to fan 170 degrees C.
2. Put all of the cake ingredients in a food processor and blend until well combined and smooth. But not too long as you will get a tough cake.
3. Using an ice cream scoop spoon the mixture into cake cases in a muffin tin. We managed to get 20 cakes.
4. Bake in the oven for 20 to 25 minutes, they are ready when a skewer comes out clean.
5. Leave to cool on a wire rack.
6. Cut the Oreos in half. We ended up with a few broken ones, these can be adde to the icing. Store them in a plastic bag till you are ready to serve.
7. Make the icing. In a food processor first blend the icing till there is no lumps. Then add the creme fraiche and vanilla and blend again. If it still a bit thick add some milk 1 tablespoon at a time. Add the broken oreo bits and blend till the bits are reasonable small.
8. When the cakes are cold they can be iced. Use a large nozzle on the icing bag so that the bits of cookies don't get stuck.
9, Top with half a cookie and then enjoy.
These Cookies and Cream Cup Cakes are always a favourite at the School Bake Sale. This particular batch was finished at 6:30 this morning. The school is currently raising money for a school they support in Tanzania. Jamie is going there for a month to help teach English. Jamie told me that they were the fastest selling cakes and this batch managed to raise 36 Euros. Most of this was due to the popular combination of Oreo Cookies and Chocolate.
The cake recipe is based on Nigella's old fashioned chocolate cake recipe I hope she would approve of my adaptations. If you not have tried any of Nigella's recipes give them a go,  they are always easy and tasty, but please come back to my site as well. Most of my German friends only know Jamie Oliver as a British cook. I have been trying to spread the word.
I have adapted the recipe by using creme fraiche instead of sour cream and making cup cakes rather than 1 big cake. The icing is a simple butter icing using the remaining creme fraiche and some of the broken bits from the Oreo Cookies. For the classic cookie,  top with half an Oreo, do this just before serving to prevent them going soggy.
Add to Favourites