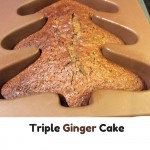 Triple Ginger Cake
A great classic ginger cake recipe, for the cold winter days.
Instructions
If using a cake tin grease it with a little butter and line the bottom with some greaseproof paper. If using a mould grease it with a little vegetable oil.
Pre heat the oven to Fan 180 degrees Centigrade.
In a saucepan gently melt the butter, syrup and brown sugar till they are combined.
In a large bowl mix together the dry ingredients. Chop the crystallised ginger into small pieces.
In a jug mix together the eggs and milk.
When the saucepan ingredients have melted add them to the large bowl with the dry ingredients,  add the wet ingredients and then gently stir until you can't see flour anymore.
Spoon into the cake tin or mould and cook for 35 to 45 minutes. To check it is ready the top  in the middle of the cake should spring back to the touch. Don't remove it from the oven to check as this could cause it to collapse.
Leave to cool on a wire rack for 10 minutes.
Prepare the topping mixture. Stab a few holes into the cake and then gradually spoon the topping over it. Leave to cool throughly before removing from the mould or the tin.
Store in an airtight tin.
Allergens
My triple ginger cake is my Christmas favourite cake. Ginger cake has always been one of my favourites, a small ginger cake bought from the supermarket was a great Sunday afternoon treat. This triple ginger cake is tastes even better and unlike most cakes the taste improves over a few days, if you have some left over.
The triple ginger comes from ginger powder, crystallised ginger and ginger ale. The cake is dark in colour from the brown sugar and syrup that it uses. You end up with a moist spicy cake that any ginger lover will enjoy. Even if you aren't a great ginger lover give it a try, it might convert you. If you are using the UK classic Golden syrup use a dark soft brown sugar, if you are using the Zuckerueben syrup which is really dark use a light brown sugar. If you haven't got any self raising flour check out my cake baking tips page on how to make some.
This cake can be made in a large round cake tin or in a mould if you have one. For Christmas I have bodum christmas tree mould, it takes a little longer to cook in this, than it would in a tin but creates an impressive result, for me it took 40 minutes to cook.
Add to Favourites