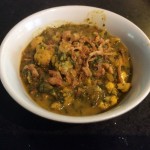 Spinach and Cauliflower Curry
Great vegetarian curry. Easy to make and healthy too.
Instructions
1. Put a large pan or wok on a medium to high heat with no oil in it. Add the mustard and cumin seeds and dry fry them till they start to pop. Stir frequently to stop them burning. When they are ready pour the seeds into a bowl. Whilst you are waiting slice the onions.
2. Return the pan to the heat and add two tablespoons of ghee. Add the onions to the pan and fry for 5 minutes. Meanwhile grate the ginger and use a garlic crusher to crush the garlic. Add the these to the onions. Cook on a medium heat stir frequently for 10 minutes.
3. Meanwhile prepare the spices and chop the cauliflower into small florets.
4. When the onions are soft add the dried spices and the mustard and cumin seeds back to the pan. Fry for 2 minutes. Then add the tinned tomatoes and cauliflower. Add the stock pot and boiling water. Stir well and cover the pan with a lid. Simmer for 15 minutes stirring occasionally.
5. If using fresh spinach wash throughly. If using frozen spinach add it now. For fresh wait a further 5 minutes before adding. Cook until cauliflower is ready and spinach is fully wilted another 5 to 10 minutes.
6. Serve with paratha and rice if you want a larger meal. I like to top it fried onions (the same sort usually put on hot dogs)
If you want a curry in a hurry then go veggie. Most meat curries need to be marinated for several hours with veggie ones they can be made much quicker. This week Cauliflowers were only 1 Euro for a lovely large fresh one at the supermarket and I immediately thought of this dish, one of my favourites.
This spinach and cauliflower curry is a veggie version of the classic Chicken Saagwala. Add as much chilli powder as you would like. The rest of the spices add flavour rather than heat. If you over do the heat adding yoghurt or cream calms it down a bit. You can use fresh or frozen spinach you just need to add the frozen spinach a bit earlier.
This dish is vegetarian and could be made vegan if you use vegetable oil instead of the ghee. I like the taste of ghee and its closer to a restaurant style curry if you cook with it.
Great served with Parathas and a mint Raita dip. For vegans and gluten intolerants you can serve it with rice and poppadoms. Most Asian supermarkets sell poppadoms and they can be easily cooked in the microwave if sprayed with a little oil.
Add to Favourites