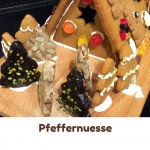 Pfeffernuesse
Pfeffernuesse Christmas trees inspired by traditional German Christmas cookies.
Instructions
Put all of the cookie ingredients into a food processor, use 2 tablespoons of milk at first. Blend until combined. If the mixture looks a little bit dry add some more milk and blend again.
Form the dough into a ball and chill in the fridge for 20 minutes.
Preheat the oven to Fan 180 degrees Centigrade
Lightly oil your work surface and rolling pin and roll the dough out until it is 1 cm thick. Cut out into Christmas tree shapes. Repeat until all of the  dough is all used up.
Place the trees on a lined baking tray.
Cook in the oven for approximately 15 minutes until the cookies are a little bit firm.
Remove from the oven and leave to cool.
Prepare the glazes. The amounts given here will enable you to coat half of the trees in each glaze.
For the sugar glaze simply mix the icing sugar with the orange juice and zest until you have a paintable consistency. Paint on the glaze and sprinkle with almonds. Leave the first side to set before flipping over the trees and doing the other side.
For the chocolate glaze I have used a ready made pot. The safest way to heat the glaze is to simmer it in a water bath as per the packets instructions. Simply paint on the glaze and sprinkle with nuts and leave to set before painting the other side.
Allergens
Pfeffernuesse, or pepper nut in English , is a traditional German or Dutch Christmas treat. It is now one my new favourites combining white pepper, cinnamon, cardamon and clove spicing,  creating a yummy treat. You can make them as hot as you like, for my version I used about 1/4 teaspoon of the pepper. The pepper adds a little heat and the other spices deliver a Christmas flavour.  For some extra Christmas cheer I made my Pfeffernuesse into Christmas trees and coated them with two different glazes. A dark chocolate glaze with chopped pistachios and a simple sugar and orange glaze with slivered almonds. Let me know if you have some good different variations. The Christmas trees were stuck around my gingerbread house,  not all of the trees lasted that long.
To apply the glaze brush it on with a pastry brush and sprinkle on a few nuts, leave the first side to dry before flipping them over and repeating with the other side.
Add to Favourites