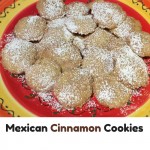 Cinnamon Cookies
A version of the Mexican Classic Polvorones de Canele.
Instructions
Lightly grease a baking sheet with butter and sprinkle a little bit of semolina over it, this will stop the biscuits sticking.
In a mixing bowl cream together the flour and sugar.
Add the remaining biscuit ingredients to the bowl and mix until it is just combined.
Lightly form the mixture in ball. Place into a freezer bag and leave to rest in the fridge for 15 to 30 minutes.
Preheat the oven to fan 175 degrees Centigrade
Prepare the dusting ingredients in a separate bowl
Pull off a bit of the mixture and roll it into a ball roughly 1 inch or 2.5cm big. If the dough is sticky chill for a little bit longer. Roll each ball in the sugar and cinnamon dusting and place on a baking sheet leaving plenty of room for spreading.  Repeat until all of the mixture has been used.
Cook the cookies for 15 to 20 minutes until the biscuits have gone golden brown in colour.
Leave the biscuits to cool on the tray for five minutes before removing, dust with a little  more of the  sugar and cinnamon and leave to cool completely on a wire tray.
Store in an airtight container, they will keep for a couple of weeks.
Allergens
This recipe is one that Tom's Spanish teacher gave him. I didn't think it was possible to have a biscuit with a higher butter to flour content than traditional Scottish Shortbread but these Cinnamon cookies have it. The traditional Mexican name for them is Polvorones de Canele. Polvo in Spanish means dust and you certainly give these cookies a good dusting in the cinnamon and sugar. They are very popular in the US as well are apparently are a traditional Christmas or special occasion treat. Cinnamon is definitely one of my favourite Christmas tastes. These Cinnamon Cookies are good enough to eat at any time of year. For some other great Christmas ideas check out my Christmas Favourites page.
The most important part of this recipe is to chill the biscuits before rolling into balls. If you don't you will get into a sticky mess and a lot of the lovely butter will escape during the baking. Hope you like them too.
Add to Favourites