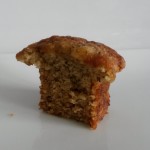 Banana Bread
Banana bread recipe inspired by the Starbucks version.
Instructions
1. In a bowl mix together sugar, egg and oil until well combined.
2. Then add the flour mixed with the bicarbonate of soda and salt and gently mix 2 or 3 times.
3. Mash the bananas and add to the bowl. Follow this with the walnuts broken into smaller pieces, creme fraiche and vanilla.
4. Stir gently until all of the ingredients are well combined and you can't see anymore flour.
5. Preheat the oven to Fan 170 degrees Centigrade.
6. Spoon mixture into chosen tins or cases. It will make about 18 cupcakes and slightly over 12 mini loaves ( the extra I use for cup cakes) or 1 large loaf.
7. Cook cupcakes and mini loaves for 20 to 25 minutes. Check they are done by doing the skewer test (the cake is quite sticky so the skewer test might prove difficult) and that it springs back when the top is touched. For a large loaf this takes 45 to 60 minutes to cook, depending on how large your bananas were.
8. Remove from oven when done and leave to cool for 5 minutes before removing from tins.
Allergens
This banana bread recipe is the best way I know to use up old bananas. It is inspired by our favourite Starbucks cake. When I get a banana that is too ripe to eat  I put in the freezer. When you have three can can make this delicious cake, just leave them to defrost over night. Don't what ever you do try it with yellow bananas the flavour definitely gets better with age. Picture 2 in the gallery shows an overripe banana that hasn't been frozen with two frozen ones, they go black in the freezer but are perfectly fine to use.  You can use this mixture to make one large loaf mini loaves or cupcakes.  I prefer to make mini loaves you get a nice crispy outside to the cake and a moist and tasty inside. The benefit of making a smaller cakes is that is only takes 20 minutes to cook. The cakes will keep for several days in an airtight tin, but they hardly ever last that long. Hope you like it.
Add to Favourites